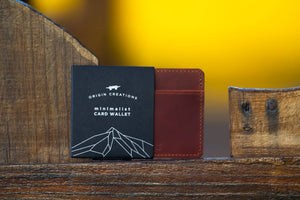 Minimalist Card Natural Grain Leather Wallet -Saddle Brown
We are proud to bring you the Origin Creations fine leather collection. Crafted with great care for quality, people, and planet. A small workshop hand-crafted the Minimalist Wallet in León, Nicaragua. In this local workshop, women & men learn fine leathercraft to create new opportunities for themselves. Our Origin Creations Minimalist Wallet is meticulously hand-cut & stitched from rich, natural, full-grain Nicaraguan cowhide. The Minimalist Wallet holds what you need & makes the impact you want. Holds 4 to 6 cards. Middle slot with slots on each side.
Natural tones & striations make each wallet unique. --Saddle brown has the beautiful patina of the classic saddle horn. 
CARE: Clean with damp cloth. Use leather conditioner, as needed.
Dimensions
4" l x 0.1" w x 2.7" h
Made in Nicaragua
---
We Also Recommend