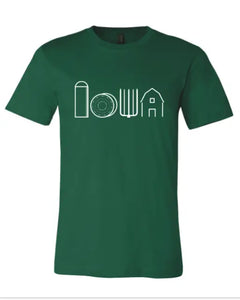 Love Iowa TShirt -Stalk Deep Green
(Thanks to the outpouring appreciation of this newest design, we've decided to donate $1,000 to the Iowa "Futures Farmers of America" Association!) Introduction Our "Iowa love" 'for our farms' T-shirt is dedicated to our family and friends whom have answered the call to the industry of agriculture! This design is to recognize folks working hard to: manufacture ag equipment, build ag infrastructure, develop seed, pesticides, fertilizer, farm crops, raise livestock, and transport & process the fruit of all this labor. 
Front of Shirt * Farm icons spelling out "IOWA".
---
We Also Recommend